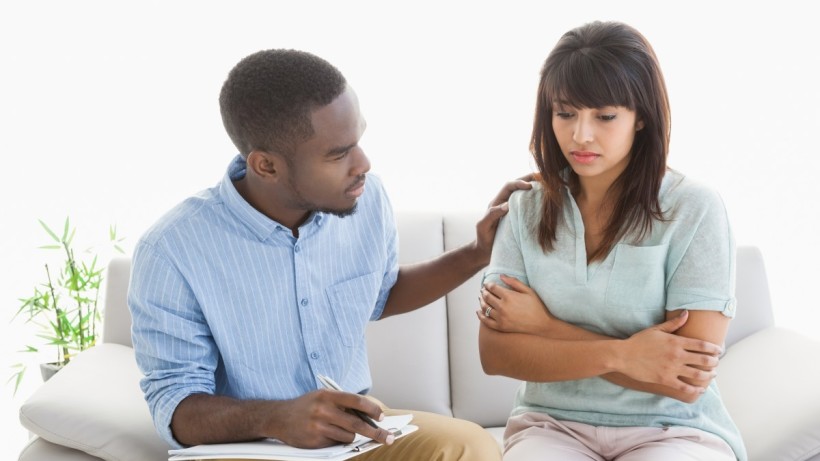 CBT (Cognitive Behavioural Therapy)
CBT (Cognitive Behavioural Therapy: Dealing in the present and future, to help you change unhappy negative beliefs, thoughts, feelings and behaviours, into positive successful beliefs, thoughts, feelings and behaviours. Includes homework of: thought and feelings diaries, reflective paper exercises e.g. collecting thoughts and challenging thoughts, breathing exercises, practical exposures, etc, to test out improved reactions and coping skills.
What is CBT (Cognitive Behavioural Therapy)?
Cognitive Behavioural Psychotherapy (CBT) focuses on your present-day thoughts, physical symptoms & behaviours that comprise an area of emotional difficulty. Controlled clinical trials of treatment for Anxiety & Mood Disorders demonstrate that CBT decreases symptoms in 65-85% of sufferers. The UK national health lead body NICE, maps out recommended treatment pathways for depression, anxiety, OCD, etc. NICE clearly recommend CBT as a preferred form of Counselling / Psychotherapy, with or without medication. In Barnsley and other areas of South Yorkshire or West Yorkshire, other Psychotherapy or Counselling therapies are more client-led and examine and reflect the past before moving forward. However my powerful CBT therapy concentrates on the 'here and now', helping the client to develop realistic, practical and effective day-to-day coping methods. CBT Therapy can be slow and take between 6 to 20 sessions, therefore can be expensive in private practice. There is a waiting list on the NHS and often funding and/or availability runs out, often after 6 to 8 sessions. To kick-start CBT and lessen the number of sessions needed and therefore the cost, I can mix in some sessions of Clinical Hypnotherapy. CBT and Hypnotherapy mix well together and what might have taken 6 to 20 sessions of pure CBT, can reduce to 6 to 10 sessions when a very powerful mix of CBT and Hypnotherapy is effectively used.
The clear goals of CBT are to:
Recognize unrealistic patterns of thinking/actiong

Decrease the intensity & frequency of problematic symptoms

Increase day-to-day coping skills

Prevent relapse in the future
Cognitive Behavioural Therapy (CBT) is a psychotherapy / counselling solution, which offers a unique category of psychological interventions derived from cognitive and behavioural psychological models. It is a relatively short term, focused psychotherapy for a wide range of psychological issues. The focus of CBT is on what you are thinking (cognitions), how you are behaving and feeling, and what symptoms you are experiencing. The Counsellor / Psychotherapist is a catalyst, helping you to find new solutions to old problems, within each dynamic and motivational counselling session. CBT is an evidence-based therapy, that is, it has a proven track record based on a large body of research. Cognitive Behavioural Therapy (CBT) empowers you to use powerful, practical tools, to identify and reflect the negative ways, you presently think, feel and behave. With step-by-step practical support, you are assisted to develop realistic and effective coping strategies, to move forward with success. These positive coping tools within each counselling session, empower you to gain new, positive, ways of thinking, feeling and behaving. All age groups are welcome, including children and adolescents.
CBT, Integrative Counselling, or Psychotherapy can help with many issues including the following:
Bereavement

Parenting difficulties

Assertiveness

Confidence

Depression

Anxiety (inc social, general, performance)

Panic attacks

Low self-esteem

Low confidence

Obsessive Compulsive Disorder

Post-traumatic Stress Disorder

Travel anxiety and accident truma

Phobias

Feats .e.g public speaking

Gender issues (TV & TS)

Sexuality issues

Anger Management

Addiction recovery

Mental health issues

Accidents or illness
The first session of CBT (Cognitive Behavioural Therapy) is an assessment and will give some indication of the number of sessions required. All age groups are welcome, including children and adolescents. This form of counselling / psychotherapy is very action-orientated and includes practical homework to empower quicker and more effective positive changes. The NHS clinical guidance body (NICE) clearly endorses CBT Counselling / Psychotherapy, for depression, anxiety, OCD and other challenges.
CBT is part of the UK's guidelines by N.I.C.E. as being a preferred psychological therapy to treat: depression, anxiety, panic, OCD, plus quite a few other symptoms and challenges.
Help us help you. Arrange a booking today!